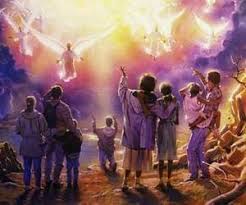 It's quite common while browsing through videos online to stumble upon another "rapture dream" video. They are quite common online. Many have claimed to have them. Many testify of a certain type of cataclysmic event that will take place prior to the rapture. Many have also predicted certain dates as to when the rapture will come. But as time passes those who were in hopes of the predicted date, reality crashed down upon them, the dream wasn't true and the date failed. This has happened time and time again and you'd suspect that the fooled would come to their biblical senses. But no, they eagerly anticipate the next date of the rapture only to be inflated and deflated with deception.
Fact checkers usually are few and far between since the rapture hype clubs garner more naive believers than skeptics. The one who is serious about his study of the Word of God will not be on any rapture hype train. He will have studied the scriptures and will know full well the true signs that must take place prior to the Lord's return. Blood red moons, Nibiru fanaticism, Nostradamus paranoia are all adrenaline boosters for the naive and unlearned. It doesn't take much to bring in a wave of attention and to sky-rocket a video with claims of a rapture dream or the exact date of Christ's return.
These false claims have been used by many to spur attention for a short period of time then to ultimately to wane the attention when the dates fail to produce a rapture and the prediction fails. Few will concede to their dramaticized, hasty predictions. Others will casually shrug it off without remorse and continue to chalk up another false date for the future. Once again the simple and unlearned will jump to believe such claims only to be disheartened when the date comes and goes without a hitch. Similar to a drug-addict wanting a fix, so the date setter craves the attention. The naive who follow the date-setters are also desiring the adrenaline rush of just one more blood red moon or one more comet fly-by to heighten their senses to the possibility of that being a sign of Christ's return! Do these people read their bibles? This is a valid question that you may ask.
Why do so many fall for such lies and deception? This, I have often wondered, since we can clearly see the words from Jesus' own lips, "But of that day and hour knoweth no man, no, not the angels of heaven, but my Father ONLY." (Matthew 24:36 KJV). It seems to me that these people who fall for such things are similar to the one making the false predictions. They are mostly idle followers or deficient in self-esteem and are not comfortable in their own skin. They need to spawn a false claim to arouse the masses to satisfy their need of recognition and worth. They use the false claim and the deceptive date setting tactic to win over the naive. This empowers them with a false strength that will suddenly deflate once their prediction fails. Once again they are back again to their old-self of deficient character mingled with an evil desire to deceive. I say evil because the devil is a deceiver and he is the evil one. Hence, those who deceive intentionally or with little or no regard of the outcome of such false claims are participating in an evil act and the devils work. Especially since it violates the Holy Word of God.
One who follows Christ need not make any predictions of Christ's Return. As a matter of biblical fact, we see once again in the first chapter of Acts, prior to Jesus' ascension the disciples ask: "Lord, wilt thou at this time restore again the kingdom to Israel? And he said unto them, It is not for you to know the times or the seasons, which the Father hath put in his own power. But ye shall receive power, after that the Holy Ghost is come upon you" (Acts 1:6-8). Jesus is clear that the times and season are in the Father's power and the Father's knowledge. If it was of utmost concern for the disciples to know the exact date of such happenings the Lord Jesus would have blatantly told them. But he didn't. What was of importance was for them to be filled with the Holy Ghost and power from on high.
That is what is needed today. There is a strong need for many to be filled with the Holy Ghost and power from on high so that they might have better discernment. The Spirit of God leads and guides into all Truth. They will then be true witnesses, understand biblical prophecy and know better than to even hint! at making any sort of spurious prediction. They need not do any of those things but to preach the sound Word of God as it is written in the holy scriptures.
Men and Women of God should have a firmness in the faith and have no need to inflate their ego through deceptive tactics. I have little tolerance for date setters. My only concern are for those who are infant in their walk with the Lord and are led to believe a lie. My hope for them is they grow up in God and leave behind such fanciful things. However, I am not so much dismayed for others who are willingly deceived and that have asked for it. Somewhere along the line they have erred from Truth and wandered from the path of understanding. For those who do not draw back unto truth, they shall, as the scriptures saith: "…remain in the congregation of the dead" (Proverbs 21:16).
We shouldn't feel too sorry for the date setter and the fooled. For the words of the Lord are clear: "With him is strength and wisdom: the deceived and the deceiver are his." (Job 12:16).
With that being said, let us "keep watch" as the scriptures repeatedly adjure us and not watch for any particular dates.
Amen!