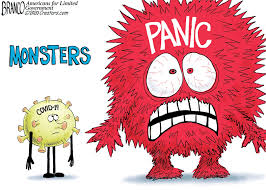 As I walk through this store in the midst of a "plandemic," the word of God quickened me. The word that came to me put it all into perspective.
And we know that we are of God, and the whole world lieth in wickedness. (1 John 5:19 KJV).
I am no longer in wonder as to why the response of my fellow mortals is so attuned. Attuned to align themselves with the natural realm. Their robotic response is without hesitation to the suggested guidelines of a fear driven public health care system. They are care free. Willing to go with the program without hesitation.
As I look around me, everyone has a mask on while I am maskless. Not because I am breaking any ordinance in this particular store but because I have a choice. There is no ordinance at this store to wear a mask, however, the majority of the people frequenting this place of business obviously didn't get the memo. Or did they? The fact is they do know that masks are "suggested" not enforced. This does not sway them however. They have watched the News, they have read the Headlines, they have listened to their Entertainers. How can they defy the orders CNN, Beyonce, Justin Bieber or Kim Kardashian. They would never do such a thing! If the CDC says jump they say, "how high?"
I see that common sense has taken the back seat. The God-given internal defense mechanism has been shunned. The mask is now the god. The gloves are now the saviors. A good social distance is necessary to rebuke that devil in the fellow shopper. After all, everyone may have a virus and they need to be kept at bay. In these days, the embrace is evil, the handshake is a crime!
The mindset of humanity is upside down. This plandemic unveiled humanity for what it is. A people without God. A people without hope. A people with no direction but DOWN. The majority of people who senselessy wear masks even when they are not necessary are a people that have no faith in God. To be suddenly fearful of something (viruses) that have been around for thousands of years is to demonstrate your lack of trust in God. God did not create man with a mask on. He did not create babies with carbon filters over their mouths. He created the human body to naturally fight off virus and disease. The internal mechanism of defense is indisputable. It has proven its effectiveness at fighting off many a virus and sickness through eons of time. But only now, in this year, 2020, we all been bamboozled. The world now denies the astounding fight record of the immune system. Science has now become the champ!
The scripture that God quickened me with was timely considering my growing disdain towards man. God brought consolation to me through his word. I began to see them for who they are. When the scripture in 1 John says, "the whole world" it means just that! The whole world is being deceived and are following after a base nature which is anti-God. Granted, they are in chains and needing deliverance but the reality of their bondage is clearly manifest in these times. Jesus wasn't off course when he stated that "broad is the way that leadeth to destruction, and many go thereat." (Matthew 7:13). Satan has these people in fear and in his control. The powers that be are under the devil's domain. Satan is the god of this world and it's no wonder that the children of darkness are being deceived into a furtherance of control and bondage.
We as children of God need to be distinct. We need to be separate from the world. We need to wake up.
"Be not ye therefore partakers with them. For ye were sometimes darkness, but now are ye light in the Lord: walk as children of light:" (Ephesians 5:7-9).
It boggled my mind when at the beginning of this plandemic that there were those who called themselves "brethren" of mine in the faith and insisted that I quarantine myself because it was supposed to be God's wrath being poured out like in the days of Pharaoh. I rejected that plea. I can discern the wrath of God from an artificial wrath composed by man to manipulate minds and gain control over civil liberties. Similar to 911, the gov't won big! Corporations were paid out and the higher-ups were made even richer. This plandemic was all for profit, control and the stripping away of our liberties. We had to endure and still are enduring a devilish deception propagated by an anti-christ system. The heathen will continue to follow and support the demands of their devils. Those of us who are awake must continue to stay awake and not be so easily swayed. We are in the last days and the deception will get even stronger. All you have to do is look around at how many people are being deceived and are at the mercy of the god of this world.
This earthly plane lies in wickedness. We must transcend this earthly plane. We must understand that this world is not our home. We are striving to enter into the straight gate. We are hoping for a better world to come where Jesus Christ reigns in all authority. That is the world we belong to. A world where righteousness reigns and no evil dwells. Those who live in fear are the first to be rejected from that world to come.
"But the fearful, and unbelieving, and the abominable, and murderers, and whoremongers, and sorcerers, and idolaters, and all liars, shall have their part in the lake which burneth with fire and brimstone: which is the second death." (Revelation 21:8).
Being "fearful" is the first sin listed in Revelation 21:8. That sin of being fearful is running rampant in the world today. It's promoted by the gov't and the powers that be. John stated correctly, "the whole world lies in wickedness." Let us shine our lights by being free from the snare of fear. Let us remain in the faith of God trusting in him and not conforming to the world. Let us transcend this earthly plane by being lights in a dark world.
Amen.