I was recently sent a video regarding an officer who was killed in the line of duty.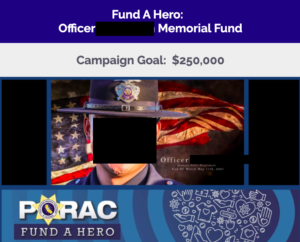 He was reporting to a domestic violence call and as he approached the door, he was shot in the chest. He died. I understand this may appear to be a tragedy to most but one has to understand that ultimately God is in charge of all souls and no death takes God by surprise.
"Behold, all souls are mine; as the soul of the father, so also the soul of the son is mine: the soul that sinneth, it shall die." (Ezekiel 18:4 KJV).
We understand that death is a part of life but what we should be most concerned with is what happens after death. Funerals and memorials usually speak very well of the individual that passed away. They focus on the good that he or she may have done in the community. They speak on the happy times and make public testimonies of the interactions they had with the person. They may even show a slideshow and bring back to memory the times the person was engaging in the community or was doing noble things. But the questions have to be asked:
Was this person a born again child of God?
Was this person a truly noble character that should be held in such high esteem?
Was this person walking in holiness and the fear of God?
Should I be giving such attention to a dead person and is this in line with God's will?
The video that was sent to me was of a man I did not know. I had not a clue of the person's lifestyle. I didn't know how they conducted themselves in public or in private. I didn't know if they were a believer in God or a hater of God. I didn't know if they were worthy of destruction. I didn't know if God gave them ample warnings to repent and they didn't take heed. However, the heartfelt video that showed a memorial, open casket and procession was supposed to get me to sympathize with possibly an ungodly sinner? It wasn't going to happen.
I am a Christian and being a follower of Christ, when I see Jesus' reaction towards funerals and memorials, it's quite the opposite. For instance, there was a man who was inclined to follow the Lord but had to go and make plans and arrangements to bury his father. Jesus didn't offer the standard sympathetic condolence.
"Jesus said unto him, Let the dead bury their dead: but go thou and preach the kingdom of God." (Luke 9:60).

What a radical statement for Jesus to make. The Son of God, the Lord Jesus, the one whom most think would never respond in such a way (because they don't read the scriptures) just made a bold statement that most would be offended by.
Now there are two ways we can look at this type of statement and at least two lessons we can draw from it. On one hand Jesus is showing us that the importance of doing the will of God is of utmost priority. The call to follow Jesus and do his will must not be hindered or postponed for personal reasons. The will of God is the ultimate personal duty. Man wasn't placed here for anything else other than to do the will of God on this earth.
"Not every one that saith unto me, Lord, Lord, shall enter into the kingdom of heaven; but he that doeth the will of my Father which is in heaven." (Matthew 7:21). 

Entering into the kingdom of heaven is NOT attained by being a good lawyer or being a good cop. The way one attains eternal life and escapes eternal damnation is by doing the will of God. There is no other way. The will of God and this personal duty is to serve God and protect one's soul. To keep oneself unspotted from the world is responsibility of the true Christian. We don't know if the slain officer was someone who was even thinking about doing the will of God in their life. Most who die in destructive ways have lived a life of sin and refused to partake in sacrificing their lives for the Cross of Christ. They may never have preached the Gospel, witnessed of the resurrection of Christ or even attempted to live a repented lifestyle. Most were living in unbelief, adultery, fornication, or were enjoying the pleasure of some type of drug or secret sin of the flesh. But you want me to give "honor" to such a person? it's not going to happen.
If Jesus, the Son of God, thought it a wise and beneficial thing to attend a burial or give his blessing towards one, he would have done so. But we don't see that happening with the young man wanting to bury his father. Jesus responded to "let the dead bury their dead." He didn't take time to go to a memorial, funeral or procession. It is highly likely that Jesus already knew the lifestyle of the father and deemed it worthless. The BIble says to give honor appropriately.
"Render therefore to all their dues: tribute to whom tribute is due; custom to whom custom; fear to whom fear; honour to whom honour." (Romans 13:7). 

This scripture may be used by some to try and justify funerals, memorials or processions but we can't associate this scripture with burying the dead since we see don't see in the context Jesus speaking on death. Never do we see Jesus attending a funeral, wake or procession service. As a matter of fact, there is one instance where Jesus attends a type of memorial for the dead, and that was a man named Lazarus. This was not a typical memorial however. Jesus wasn't going to the grave site to grieve or offer condolences. He had another mission in mind.
"Jesus saith unto her, Said I not unto thee, that, if thou wouldest believe, thou shouldest see the glory of God? Then they took away the stone from the place where the dead was laid. And Jesus lifted up his eyes, and said, Father, I thank thee that thou hast heard me. And I knew that thou hearest me always: but because of the people which stand by I said it, that they may believe that thou hast sent me. And when he thus had spoken, he cried with a loud voice, Lazarus, come forth. And he that was dead came forth, bound hand and foot with grave clothes: and his face was bound about with a napkin. Jesus saith unto them, Loose him, and let him go." (John 11:41-44).
That is why Jesus went to the memorial of Lazarus. To raise the dead!
Unless you are there to raise the dead, viewing an open casket, sitting through a wake service / funeral or attending a procession are all acts of the world and are not the acts of God or the children of God. We are to be born again Christians and a Christian is one who follows Jesus Christ. The savior, Jesus Christ did not attend funerals but for the sake of raising the dead. Jesus didn't weep over the dead, Jesus didn't give a sermon of lies of how great a person was at his death. He is the righteous judge and will judge the quick and the dead.
"And he commanded us to preach unto the people, and to testify that it is he which was ordained of God to be the Judge of quick and dead." (Acts 10:42). 

Judgment day is coming and not one person shall escape. The "good cop" will not escape. The lawyer and court judge shall not escape. The lukewarm, people pleasing pastor will not escape. The roman catholic will not escape. The sodomite will not escape. The occasional drunk and justifying pot smoker will not escape. All those who lived a lifestyle of sin and took pleasure in unrighteousness, will not escape.
It's time we wisen up as Christians and not go along with the traditions of the world and start becoming separate and called out children of God.
"Wherefore come out from among them, and be ye separate, saith the Lord, and touch not the unclean thing; and I will receive you, And will be a Father unto you, and ye shall be my sons and daughters, saith the Lord Almighty." (2 Corinthians 6:17-18).


When I was a lukewarm Christian I didn't have this knowledge and I wasn't alert to the seriousness of the subject. I was asked by a family friend to hold the casket of a dead person at a funeral service. I sympathized with the family friend and agreed. Little did I know, God didn't favor my decision. When I was given the address and the time to partake in the funeral service and hold the casket, I noted the time down precisely as it was given to me along with the address. The day came and I went forth to "pay my respects" and hold the casket. It turned out that when I showed up at the catholic church, I entered in and no one was there. I walked through the cold, dark, catholic church and couldn't find a soul. As I began to walk down towards the next building, I heard laughter, casual talking and the jangling of cutlery behind the closed doors. It dawned upon me that the ceremony had already ended and now they were feasting. I didn't go through the doors but something told me to get in my car and leave. So I did. Long story short, I arrived two hours late. I was given the wrong time of the funeral ceremony. Although I noted the time down correctly as it was given to me, the person whose loved one died gave me the wrong time. In my ignorance I tried to assist with burying the dead. Jesus Christ however, stepped in and put a spirit of confusion on the person giving me the time. This was done on purpose so as to not have me part of the unclean ceremony of burying the dead. This was divine intervention. That was the closest I ever came in my life to attending a funeral, open casket, or ceremony for the dead. The burials in our family will be private and I will not attend one either for any family member or friend.
It's an "unclean thing" to make a memorial service and touch a dead body and give reverence to an open casket. It's an "unclean thing" to cry over a wicked sinner who was being judged for his sins. It's an "unclean thing" to be associated with the wicked world and the children of disobedience and their lies. It's a GOOD thing to err on the side of caution in all areas in life and be a true born again Christian who keeps himself unspotted from the world. If you find this writing offensive, then you may be a friend of the world and a friend of the world is an ENEMY of God.
"Ye adulterers and adulteresses, know ye not that the friendship of the world is enmity with God? whosoever therefore will be a friend of the world is the enemy of God." (James 4:4).

Amen!