Subscribe to our Channels and Donate to Ministry
Preaching / Teaching / Discipleship
On this vast Globe there tends to be a sway towards evil and unrighteousness. The god of this world is satan who masks himself as an angel of Light. He dwells in darkness and has many of his followers, sinners, abiding in the dark realm as well. Their behavior confirms this as they bask in their shame and wickedness.
Once a child of darkness myself who enjoyed the pleasure of sin, God awoke me to my wretchedness and called me OUT of Darkness into his Marvelous Light!
He called me to preach and teach his Gospel and Judgments throughout the land and to many people.
By his Grace I Go!
Outreach Apparel and other Tools
Click link at top of page for full list. Shipping 3-5 business days after order placed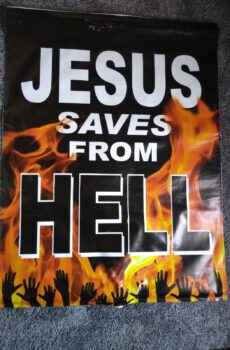 Jesus saves on one side
The list of sins on the other
Free Shipping U.S Only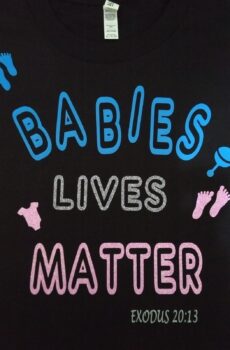 Free Shipping U.S Only
(no international shipping at this time)
TESTIMONIES
We overcome by blood of the Lamb and the word of our Testimony!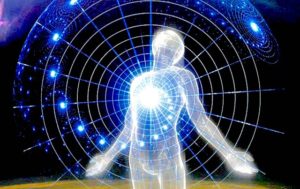 Nicholas
huge inspiration!
Dear Brother Gabe,
I just wanted to let you know that your ministry has been a huge inspiration for me, and I've decided after much prayer and thought to pursue full time ministry. I've felt God calling me to serve him with my life, and I'm answering that call. Your ministry has played a part in me making that decision, and continues to be a source of encouragement for my cousin(also involved in ministry) and I. Your ministry IS MAKING A DIFFERENCE for Christ and Gods kingdom around the world. I pray you do not grow weary in well doing, thank you and Praise the Lord Jesus Christ for all he continues to do!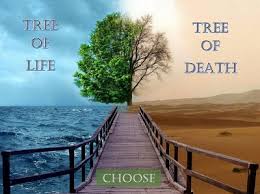 Caleb
I Love you guys!
Pray for God to bless me and have his spirit to work continually in my life, please brother do this.

May God be with you Always!

(I came across your videos at 13 years old and you helped in saving my soul from the devils clutches)

Praise God!! And may he Bless You and Use You Mightily!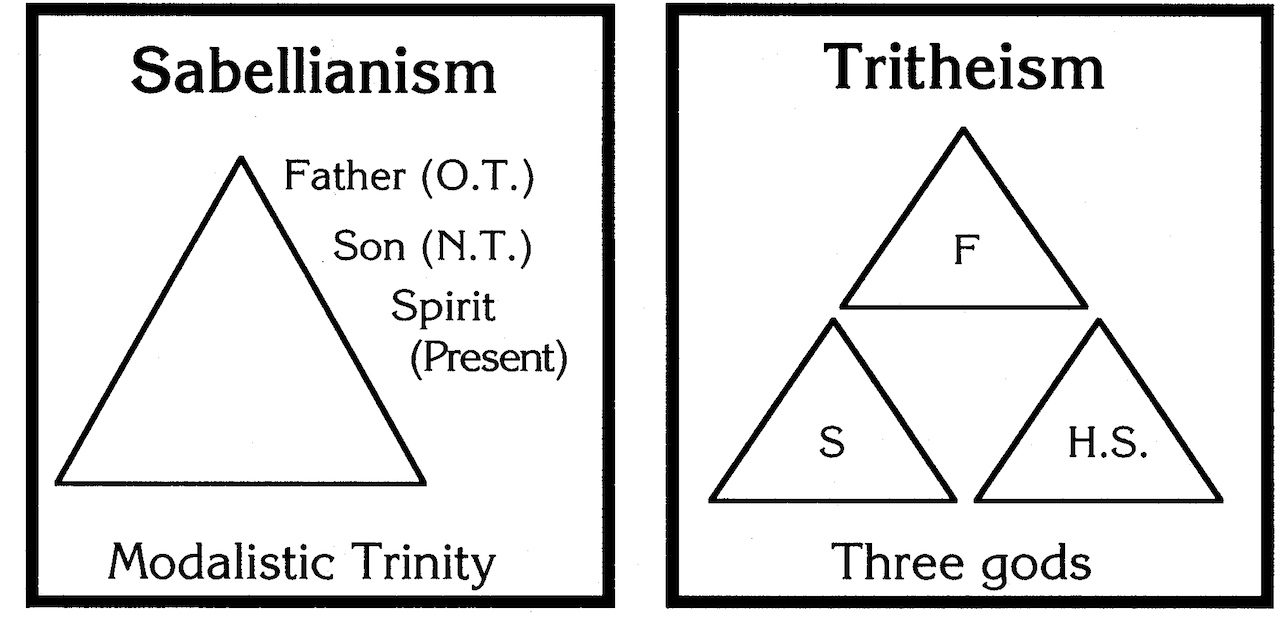 Rebecca
Jesus delivered me from Modalism
Hello, brother Gabe! It's been such a long time but I'm so happy that you have a website where you can share God's wisdom with others.

I was compelled to let you know that Jesus has delivered me from modalism. You see, when I was a newborn in Christ Jesus, I rightly knew that the trinity doctrine was false but I erroneously believed that God's Son was just a mode of The Father.

However, I was starting to see the holes, so to speak, of that doctrine and so I had asked God, "What is the relationship between the two of you?" and He showed me that Jesus' flesh is separate from Him (since He is an invisible spirit) but His Son is united with Him (all His power rests within Jesus, the flesh). Thus, we are also united with God just like Jesus when God's power transforms our minds and spirits to where we WANT to obey Him just as Jesus did. That's how Jesus is the visible image of the invisible God.

When I happened to check back with what you've been doing and watched your video "Is Jesus His Own Father?" I was so glad that He showed someone else the same thing (I'm sure there are many brothers and sisters who know this truth but I have yet to find any). I also read what you wrote on your website.

God truly does give His wisdom to the simple and how grateful I am for that!

I pray that we will all be firm in the truth, no matter what.

Thanks for reading!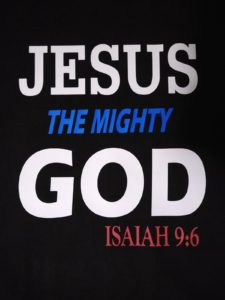 Chris
God used you to confirm things
Hey brother Gabe; thank you for all your info and links. I have to say, I have had a relationship with God my entire life but it wasn't until I heard you preaching about needing to be rebaptized in Jesus name did I ask God to find me a church of truth. Within days, maybe a week I was supernaturally led to the most amazing church with the most anointed people who strictly follow the Bible by the word. I was baptized in Jesus name and months later filled with the Holy Ghost with the evidence of speaking in tongues. (My mom also comes and was baptized in Jesus name and filled with the Holy Ghost too!) This church has become my true family and I love them with all my heart. I spend many days a week with them and I am growing in Christ with my brothers and sisters now. The amount of revelation and how God confirms it is just amazing and fun. In fact many times God uses you to confirm things. Our pastor will speak about things like not long ago how important fellowship is and then you will say the same thing within hours.. well tonight one of our brothers was filled with the Holy Ghost and we had an amazing night. If you ever stop by Riverside again you should let me know and come by. We have multiple small intimate locations and some of us have service twice a day on Sunday and Bible study on Wednesday and Thursday.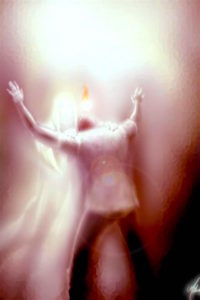 Andrey
Fear of God
Deer Gabe, I been watching your videos and brought the fear of God to my heart and repentance. God bless you, keep up the good work.🙏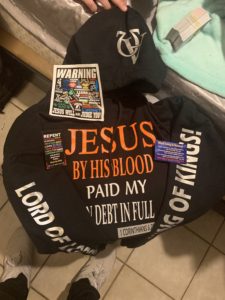 Leo
Thank you Preacher Gabe
Thank you preacher Gabe and wife (sorry I don't know your name) thank you for spreading the work and not feeling discouraged all glory to Jesus! Hallelujah! Jesus saved me and has giving me a message to spread the gospel not just with love but with righteousness and obeying his word I've learn a lot from you and from living waters but mostly from the word of the Bible, amen and I thank Jesus that he put people like you in my direction to motivate me and to strive harder and to not feel like the only person here following lord. My girlfriend _______has contacted you before and we listen and see what you guys go through and Jesus is so amazing to protect you guys and lead you guys to paths that help others that are lost and it amazes me how he changes life. Thank you for the extra thing that came in my order and I hope one day we can congregate and get to know each other and maybe even spread the word together. Keep up the good work brother Gabe, Jesus is so proud of you guys! Take care and prayers to you guys.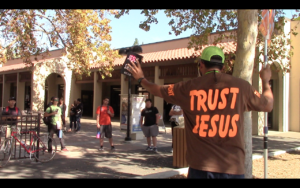 John
Made a difference!
Saw one of your videos for the first time a couple days ago and can't stop watching. I continue to struggle with sin and got to a point where I felt ashamed to even read the Word. I've been a lukewarm Christian for a few months now, one foot in one foot out as you said. Or as 2 Peter says I returned to the mire after being washed. Struggled to turn from my wicked ways, but your preaching lit the fire within me again and I feel God's presence like before. Please continue to share the Gospel and do not let the non believers silence you. I often hear people say to you nobody is listening, you're not making a difference, but I am writing to tell you that you made a difference for me. I pray for your safety and that God will continue to give you strength. God Bless!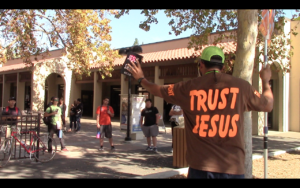 Kim
God bless you and your wife
Dear Gabe:

I just wanted to write to you & encourage you today. No one has a more difficult harvest field than you: and honestly, no one tills or works the field with the precision that you do. Truly the Holy Spirit is with you. I just watched a video where a college girl walked by you & spit on your shoe & then the scripture came up on the screen about 'the feet that share the gospel', it just shows you how real the bible is; how well satan also knows it (which is why he spit on your feet). Everything that happens & the reactions of people while you're preaching always in some way reflects scripture. It just confirms how real the Word of God is. God Bless you & your wonderful wife. You both are amazing. I've never seen a more brave soul than you (both). You know the Word so well. I'm always amazed at how prepared you always are. I learn so much from you & it's people like you that I'm sticking close to in these last days. I'm applying for a new job this week & when I get one I will be supporting your ministry. I believe in it wholeheartedly. God is blessing your work. Great will be your reward in heaven. You are such a great preacher & it shows that you love what you're doing; even on the difficult days.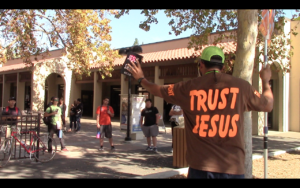 Doug
Gabe's Impact
Good Morning, Gabethestreetpreacher,

I am Doug Brown, a fellow born again Christian. When I was 17 God called me to be a preacher and I rebelled. After a decade of rebellion, depression and selfishness, I became exhausted and broke down before God. He saved me. Since then I have flourished in my church, leading prison ministry teams and small groups in my home. I have answered God's call on my life by resigning my military officer career of 7 years to enter seminary.
Your bold preaching has motivated me, and The Holy Spirit has convicted my heart to preach as you do. My heart weeps as I watch your videos because I see my past self in the sinners that you encounter, and their ultimate demise without repentance. But I believe you are planting for others to water.
I thank God for your boldness. Due to your videos I have many relevant Bible verses memorized and/or written in a smart card that I made to keep in my Bible.
Please keep up your preaching.
I have tithed to your preaching from my final military pay check to encourage you and to help with that citations from the police.
I love you, brother! Keep it up!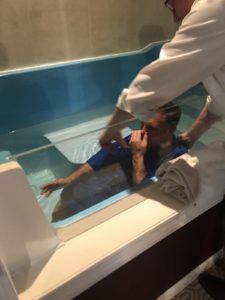 Paul
Everything has changed!
Dear Gabriel,
I finally attended the church you suggested and nearly didn't go again but wow how the Lord works ! I arrived at 10:10am, service started at 11 so I sat in my car and prayed for guidance as I didn't want to make a mockery of the gift I was being offered. I sat for half an hour before I heard but from within hearing not external " take one step towards " so I got out locked up and stood next to my car and within minutes the usher came over and welcomed me in as he thought I may just drive away.. During the service I was overwhelmed and wept a lot as the content was what I'd been praying about and baptism. At the end I spoke with the pastor and finally about being baptised and he smiled and explained a lady was due to be baptised that day but hadn't showed up so everything was prepared and said " well let's go then obviously the Lord has prepared this day for your baptism " so I was baptised in the name of our Lord Jesus Christ for the repentance of sins. Praise the Lord, everything has changed Gabe, my whole character is different the world is a brighter and clearer place.
So I thank God for giving you your teachings and for me to hear them and all the blessings that led me from darkness to light Amen.
Thank you and God bless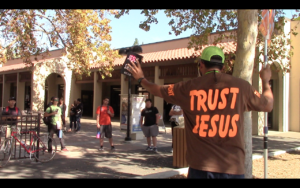 Peter
Re-examined my faith
Hello Gabriel,

The Holy Spirit lead me to your YouTube channel, l can't thank you and your wife enough for sharing your faith and opening my eyes, you have truly taken the vail off my eyes, because of you, I now know what true repentance means.Your conviction has lead me to re-examine my faith and my personal walk with our Savior. Please pray for me...your brother in Jesus Christ. Keep up the great work in winning souls for the Kingdom.

" God Bless you and your Ministry"

Warmest Regards,
Peter
🍁Toronto, Canada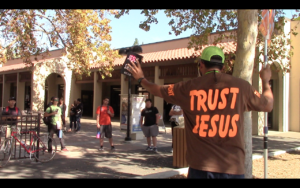 Cassandra
Restoring our marriage
With a thankful heart, I thank God for what all He's doing through y'all. He is blessing me personally so much, my husband (desiring a real change in himself as well) too, restoring our marriage; doing the impossible, etc. Our God is so faithful and true. My prayers are with you, Brother, may God eternally bless you all a hundredfold. Your little sister in Christ, Cassandra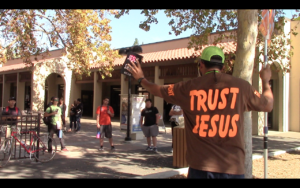 Scott J
A precious Gift
Hello Gabe! I'm from and live in Western New York now, buy I lived in Long Beach, CA and got my degree from Cal State Long Beach in 1987. At that time I was not walking with the Lord. We had a couple of so-called preachers come on campus and rile people up. But you, my brother, have a true gift of preaching. Because it's done IN LOVE. It's obvious to me that you have a calling. A precious gift. So I have made a donation today, and look forward to watching you on the campuses and sidewalks of California. I love you my brother! My best to you and your wife🙏✝️💓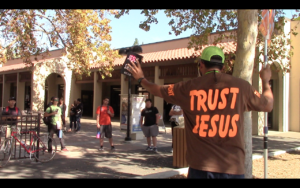 Scott
Thank you Thank you Thank you
Greetings Gabriel from your brother in Christ Jesus! Your ministry has saved my soul from eternal damnation. I accepted Jesus as my Lord and Savior, and repented from my sinful ways when I was 16; however, I know now it wasn't a true repentance, for I deliberately returned to my sinful ways time and time again. I've probably watch over 50 of your videos, and the Holy Spirit has worked through you Gabe to break down all my rationalizations for why I was "saved" and going to heaven in spite of the habitual sin in my life.
After God used you to wake me up, He lead me to...Hebrews 10:26-31
Warning against Deliberate Sin
26 "For if we deliberately sin after receiving the knowledge of the truth, there no longer remains a sacrifice for sins, 27 but a terrifying expectation of judgment and the fury of a fire about to consume the adversaries..." For the first time in my life, I have truly confessed my sins to God and my wife, asked for forgiveness, and REPENTED! I finally understand what it means to be a Saint, living in the grace of God's forgiveness, and walking in obedience to His moral law. THANK YOU, THANK YOU, THANK YOU for you and your wife's ministry to the ocean of lukewarm Christians (like I was). Besides keeping you in our prayers (which I commit to do daily), what's the best way for us to support your ministry?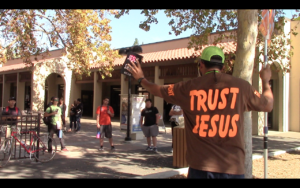 Chaz
New in my walk with Christ
"Greetings brother Gabe,
I just wanted to send you a quick email to thank you for your ministry and testimony. I came across your Youtube channel about a week ago and recently i gave up a long time alcohol/drug and cigarette addiction. I have been watching your videos daily and incorporating them into my life through prayer, repentance, and reading the bible. Even though i am a infant in my walk with Christ and understanding the Fathers word, he has already shown me signs and wonders. I've been a believer as long as i can remember but have failed to crucify my flesh and pick up my cross and walk the narrow path and truly seek Jesus. Your videos have given me inspiration and confirmation of the Fathers word."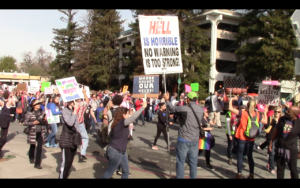 Daniel
It's making a difference!
A relative of mine goes to a CA college somewhere where you apparently showed up. I think it was Los Medanos College in Pittsburg. They told me that on or around 9/19 this year they walked out of a building and there you were surrounded by students and preaching the good word. They said it was pretty hostile, and they came and listened for a bit.

I was getting this testimony because I had gone to their house and was in the middle of encouraging and advising my cousin in the things of the Lord, when she mentioned that "oh, earlier this year there was this preacher on our campus..." and she proceeded to give me the description. I showed your channel and she confirmed it was you.

Anyhow, she had a close female friend in her life that probably is not a godly influence, and as she, her boyfriend, and her close girlfriend walked up to your preaching, my relative was very annoyed at how hostile the crowd was to the preaching of truth. She was surprised that the reaction was so hostile.

As the three of them walked up to listen, her friend disagreed sharply with something either on your sign or that you were preaching, and she spoke up against it and reacted strongly against the preaching. This reaction made my relative see the true position of her friend, and she was now able to discern that this was not a godly connection that she should allow close access into her life.

She has since distanced herself from that friendship, and she and her boyfriend are actively seeking and are open to the things of the Lord.

TO THE GLORY OF OUR HEAVENLY FATHER, AND ALL PRAISE TO OUR SAVIOR YAHUSHA MESSIAH (JESUS CHRIST)!!!!

Just wanted to share this testimony to encourage you to ENDURE in the face of the resistance, backlash, and hostility. IT IS MAKING A DIFFERENCE! The word WILL NOT return void.

-Daniel


p.s. Also, to even add to that, a couple months later around 11/26, my relative told me there was even a class discussion related to the preaching and the subjects that you covered!! The teacher was discussing with the class some of the things preached, and while I don't remember what she said about what specifically was said, she mentioned that a whole class was dedicated to a spirited discussion about the scriptures you preached.

Galatians 6:9
Romans 8:28
Isaiah 55:11
Isaiah 54:17
Isaiah 58:1
Ephesians 5:11
Ephesians 6:11-19

Anyway, just wanted to give a little testimony.